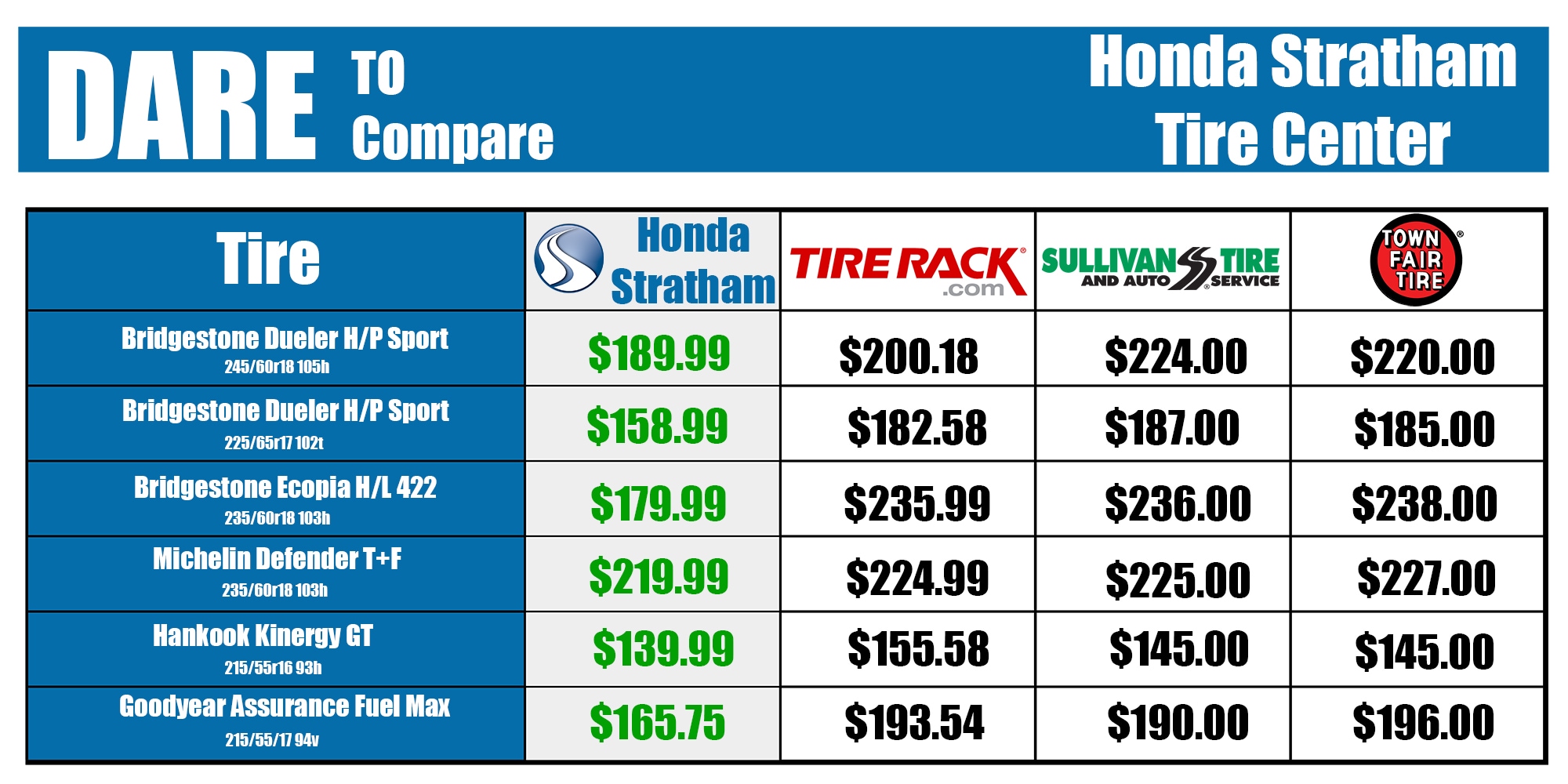 Your Source for Honda Tires in Stratham
At Honda Stratham we understand that buying tires for your Honda can be complicated and overwhelming. What size do I need? What speed rating do I need? Do I need all-season tires or tires specific to the winter conditions? Luckily, our Online Tire Store makes this process simple. With a few clicks you can pick out the tires specifically made for your Honda and schedule their installation. Simply input the year, model and trim of your vehicle and the recommended tires will show.
There has been a long-standing misconception when it comes to tire sales. Many people believe it's better to shop at the big box stores, thinking they have lower prices. But this is simply not the case. At Honda Stratham we offer the same tires at very similar prices. In some cases, we are even cheaper than the big box stores. When you purchase tires at Honda Stratham, you will have our factory trained technicians completing the job from start to finish.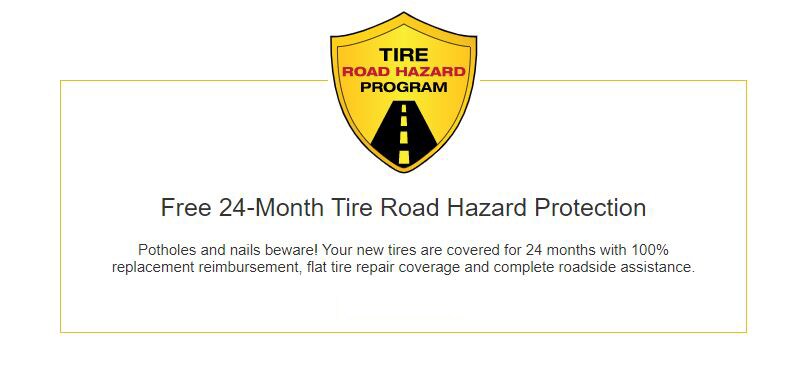 Honda Tire Sales and Honda Tire Experts
We've got them both at Honda Stratham!  Give us a call today to have all of your Honda Tire questions answered by the Honda Tire Experts who know them best!
Tire Maintenance & Service
Tire Rotations:
In order to maximize the life of your tire and ensure that your tires wear evenly it is important to rotate your tires every 6,000 - 8,000 miles.
Tire Repair: Running over a nail or a sharp object does not always require you to purchase a new tire. Through our Express Service Lane, we can plug a punctured tire in minutes.
Tire Balancing: Balancing the tires on your Honda ensures even weigh distribution across the vehicle. If the weight is not evenly distributed this can lead to vibrations, excessive tire wear and other problems.
Wheel Alignment: Have you ever felt your car pulling to one side or another. This is because the alignment of your wheel is off. A wheel alignment is actually an adjustment to your car's suspension.  The suspension is what connect the wheels to the body of the vehicle.
Tire Mounting:
Whether you are installing new tires or swapping out summer tires for winter ones, our factory trained Honda technicians will properly install your tires.
When do I need to replace my tires?
At Honda Stratham we recommend that you replace your tires every 50,000 - 60,000 miles or when your tires reach 5/32 - 4/32. Living in New England, your car and tires experience more wear and tear than other places in the county. The graphic below indicates when new tires should be purchased.
10/32 - 6/32
- These tires have enough tread and are considered safe. Proper alignments and rotations will extend the life of these tires.

5/32-4/32
- These tires will pass inspection but you should consider replacing them soon.

3/32 -1/32
- These tires need to be replaced immediately. Tires with this little tread are unsafe and can pose a danger if not replaced.